In February I attended the international chocolate event of Chocoa based in Amsterdam, Netherlands. I managed to squeeze in a short trip over a weekend thanks to the short distance between London and Amsterdam. This was also my first trip to Amsterdam and it was a very special weekend indeed!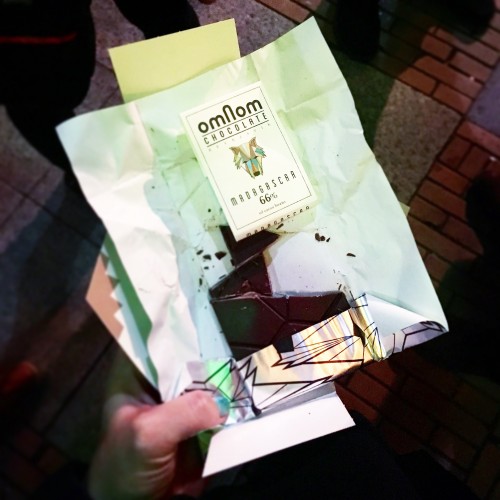 I was reunited with some great friends of chocolate and I also met some new chocolate friends with whom I had previously connected through the power of social media. It was a pleasure to finally meet Kathy Lee of Mirzam Chocolate after many emails and choc-chat exchanged through Instagram. We went for a quick coffee date at Bocca Coffee where we found some Smooth Chocolator chocolate! Those who follow my posts on Instagram will know how much I love Smooth Chocolator. This was a very happy discovery. I also joined Kathy in her Mirzam Chocolate Tasting and Talk at Chocoa.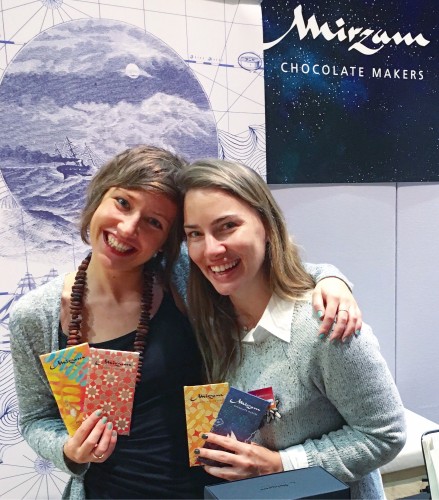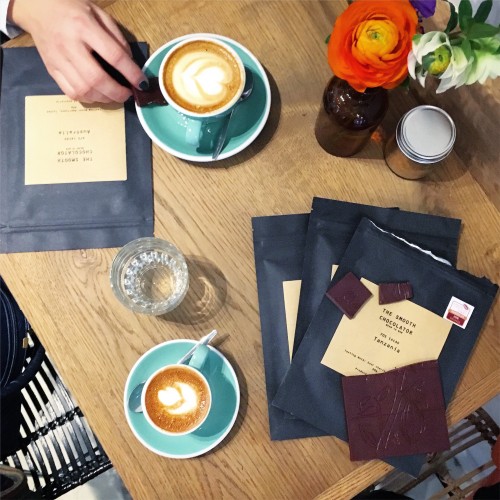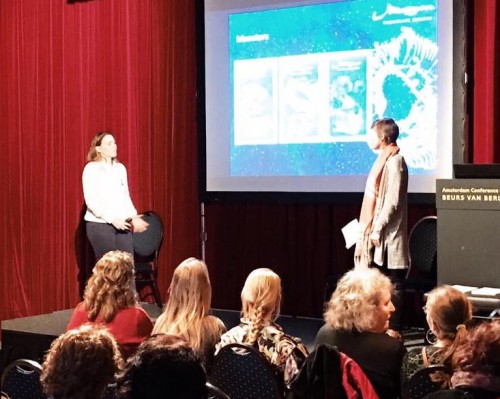 I wasn't expecting to come home with such a large chocolate stash! Thank you so much to those who shared some of their chocolate with me. It definitely kept me going for a (little) while.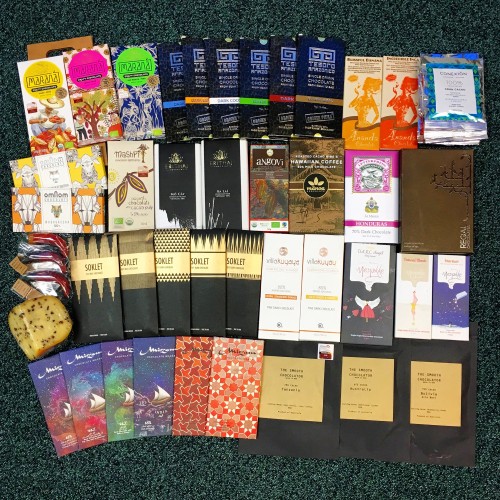 Some details about my chocolate discoveries are listed below (going from left to right, from top to bottom in the picture above):
Maraná Chocolate, Peru
I first tasted Maraná at Salon du Chocolat, Paris. In one of their bars I tasted a red pepper note (I'm afraid that I can't remember which one; I tried so many chocolates that day!). It was lovely to see Zumela and Giuseppe again at Chocoa. This time I took home 3 single origin bars from different areas of Peru: the 70% Cusco with which I tasted lots of rich brown flavours (dried fruit, molasses, cocoa), the 70% Piura which gave me some fresher fruit notes and more tropical flavours, and the 80% San Martin which tasted much earthier and slightly floral compared with the previous two. The San Martin reminded me of an Ecuadorian bean such as Camino Verde. I love tasting and comparing different origins within the same country. Thank you for sharing!
Tesoro Amazónico, Peru
I tasted the range of Tesoro bars which are all made using cacao from Piura. There were 3 different percentages of dark chocolate (88%, 76% and 65%), a dark espresso bar, a dark milk chocolate and a dark coconut milk chocolate. I always find it interesting to compare the same origin in different percentages. I found the flavour of the cacao quite intense so, to my surprise, I liked the 65% best because the sweetness helped balance out the intensity (I usually like my chocolate on the less-sweet side). The coffee bar was rich in flavour but not overpowering. My overall favourite was the Dark Coco 59% (coconut milk bar) with a very creamy texture and strong, milky coconut flavours.
Ananda Banana Bar and Inca Berry Bar, Ecuador
As mentioned in my post from Salon Du Chocolat, Paris, Inca Berries are one of my favourite fruits; I love the super-sourness! That's why I decided to try the Ananda Inca Berry bar and also the Banana Bar with dried pieces of fruit wrapped into the chocolate. I loved the flavour of the dried fruit but I found the chocolate to be a bit too bitter for my liking.
Conexion Chocolate, Ecuador
I received a pack of samples with different origins, roasts and percentages from Jennifer, Conexion Chocolate. This was the first time that I tasted Conexion and I thoroughly enjoyed the huge variety of flavours between all of the samples. The smooth texture was present across them all! My two favourites were the 81% Calcetta: slightly earthy, red fruit notes at the beginning then deep nutty notes, and the 64% Fortaleza: subtle floral and honey notes, subtle green tea notes and finishes off with very light caramel.
Omnom Chocolate, Iceland
Omnom were not exhibiting but I did meet Michael Ryan from Omnom Chocolate who was attending the event. I was actually kindly "given" 😉 two Omnom bars by Clay Gordon when a group of us were out having drinks and I was getting rather hangry (a cross between hungry and angry). Thank you Clay! Their 66% Madagascar was so good that I practically inhaled it. I also had their Milk of Tanzania, some of which I managed to bring back to London, but it survived a mere couple of hours before it was all gone. Guess where my next Cocoa (or Chocolate) Adventure will be? 🙂
Mashpi Chocolate with Cacao Pulp, Ecuador
I have only seen a few bars with cacao pulp so I jumped at the chance of buying this bar. It was very different from what I expected! It was a thick chocolate bar with a cacao pulp jelly filling. The flavour of the jelly was almost alcoholic.
Erithaj Chocolate, France
I actually rediscovered Erithaj Chocolate at Salon du Chocolat, Paris 2016 and I was totally in love with their chocolate, especially the milk Mo Cay bar. So I grabbed another one while I had the chance plus another dark which I hadn't tried yet!
Angovi Chocolate, Ecuador
I tried a few different bars of Angovi and my favourite was the 75% Mocache because it had strong green notes which I found unusual but enjoyable (I'm a big fan of green notes, especially in white wine!). It reminded me of a Piura bean a little bit: tropical fruit notes but also with green notes.
Manoa Breakfast Bar, Hawaii (The High Five Company)
I discovered this one at Salon du Chocolat, Paris 2016 and it's another of what I describe as an "inhalable" bar! A dark milk chocolate with a generous topping of crunchy cocoa nibs and a touch of Hawaiian coffee. So hard to savour! I found it at The High Five Company's booth. Dennis (owner) imports American craft chocolate for the European market. Dennis was another "Instagram friend" who I finally got to meet in person!
Letterpress Chocolate La Masica (The High Five Company)
I first tried this bar from the very first batch when I did a #chocswap with David from Letterpress at the Northwest Chocolate Festival 2015. I saw this on Dennis's booth and thought it would be interesting to try it again! It did not disappoint. I got bright raspberry notes as well as rich, deep chocolate notes. It reminded me of a combination of a red-fruit Madagascar and Kokoa Kamili from Tanzania. It made me wonder how a blend of these two origins might taste. The texture was also surprisingly creamy for a 2-ingredient bar.
Chilli Chocolate Chillies from Mucho Mundo Museum, Mexico
I was so happy to see Ana Rita from Mucho Mundo Museum again! We first met at Grenada Chocolate Festival 2015 and then we saw each other again at Grenada Chocolate Festival of 2016. What a lovely surprise it was to find Ana Rita in Amsterdam, all the way from Mexico. Ana Rita shared some of her Chilli Chocolate Chillies with me – each using a different type of chilli with its own unique flavour coming through in the chocolates. Ana Rita also shared some chocolate made with beans from the cocoa farm I visited in Mexico in January: Hacienda Jesus Maria (blog post to come on that soon!).
Soklet and Regal Chocolate, India
I first spoke with Karthi of Regal Chocolate and Soklet Chocolate two years ago when they sent me some of their cocoa beans from their farm in Pollachi, Tamil Nadu to make some chocolate and give some feedback on the beans. I was so excited to try some cacao from India! The chocolate was very interesting – like nothing I had tried before. The main flavour I remember was subtle marmite! Karthi and I did a #chocswap at the Northwest Chocolate Festival 2015 and compared bars made with the same beans. Since then, Karthi and his team have worked on the fermentation and are now selling their beans to Mirzam Chocolate and making their own chocolate under the new brand "Soklet". This newer batch of cacao reminds me of a Madagascar: citrusy and bright! I love it!
Villakuyaya Chocolate, Ecuador
I first tried Villakuyaya Chocolate when I met Tania at the Northwest Chocolate Festival 2016. My favourite was the ginger bar and Tania shared with me a Ginger and Tulsi bar with a higher cacao percentage (80%). I find the chocolate so full of flavour and quite easy going for an 80%. There's subtle ginger and tulsi notes which, for me, give an altogether banana flavour! I love the idea of having chocolate bars flavoured with different teas, and how each bar is so different in flavour despite using the same cocoa bean base (Esmeraldas). I also tried the orange and cranberry bar which was more sour.
Mesjokke Chocolade, Netherlands
I was first drawn to the Mesjokke booth by their cacao nib cheese – two of my favourite things together! I then tried their chocolate and really enjoyed it. My first thoughts on trying their Nicaraguan dark chocolate (using cacao from Cacao Bisiesto) was… BANANAS! I got strong banana notes and also rich chocolate notes. I then tried their milk chocolate which was what I describe as a "comforting" bar; very smooth and creamy with a balanced sweetness. Their "Natural Blonde" bar was a delicious and intriguing white chocolate which helped convert me to the "light side", as mentioned in my post about Craft White Chocolate. I was so happy to discover this Dutch brand!
Mirzam Chocolate, Dubai
I have been very fortunate to have tried 10 (!) of Mirzam's bars previously (Single Origin collection and Winter In Morocco collection) thanks to the generous Kathy Lee! At Chocoa I got to taste some more flavoured bars and fell in love with the "Date and Fennel Bar" which I describe as a giant middle-eastern After Eight with a fennel-infused date filling – yum! I also enjoyed the Fig bar and got a top up of my favourite bars that I tasted previously – Single Origin India (from Regal Chocolate, as mentioned above), and, interestingly, my two favourite from the Winter In Morocco collection were white chocolate: the Saffron bar and the Orange Blossom & Almond bar. A relationship is blossoming between white chocolate and me (as I mentioned in my Craft White Chocolate post)!
Smooth Chocolator, Australia
Anyone that follows me on social media will know how much I adore Smooth Chocolator. I was very happy to find some of Yoon's chocolate at Bocca Coffee so I bought all 3 bars which were available – Tanzania, Bolivia and Australia.
Thank you to Caroline Lubbers and Jack Steijn for organising a fantastic event!