I often joke that one of my roles in the chocolate world is to convert chocolate lovers to the "dark side" (to eat darker, purer chocolate). I am frequently asked if I think that white chocolate is real chocolate. White chocolate is usually too sweet for me and I personally don't believe that it is "real" chocolate because there is no flavour from the cacao beans, and, for me, that's what chocolate is all about! I am in awe of the hundreds of different flavours that are present in cacao and how much each chocolate bar can vary, due to a variety of factors.
Recently, however, I have discovered some intriguing craft white chocolate bars which are converting me to the "light side"…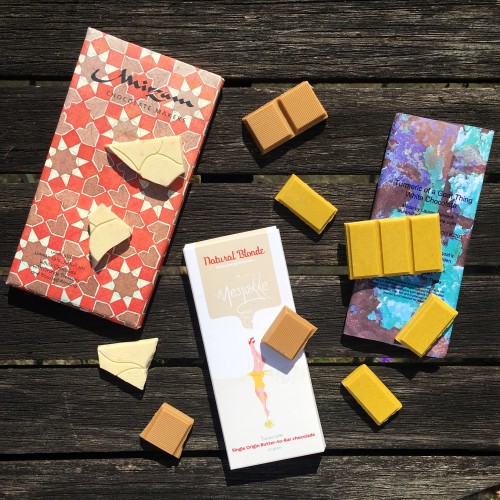 WKND Chocolate's Turmeric of a Goat Thing
I first tried this bar when I met Lauren at The Northwest Chocolate Festival 2016. I really enjoyed it at the time but it was only a couple of months afterward that I found the rest of the bar among my giant stash and I had time to truly appreciate it. To my surprise, I do not find it too sweet and I adore the instant, rounded warmth from the variety of spices. The chilli comes in more at the end and leaves your palate with a gentle warming (and yellow!) glow. This bar has a somewhat chewy texture making it quite different from what I'd normally go for. Lauren – thank you for sharing this special bar with me and opening my eyes to white chocolate!
Forte Chocolates Rosemary & Sea Salt in White Chocolate Bar
Thanks to Megan Hile of Madison Chocolate (and fellow Northwest Chocolate Festival family member) I discovered this bar by Forte Chocolates. The salt and rosemary really tone down the sweetness and the fudgy texture made this very hard to share. I deeply regret only buying one of them when I was in Seattle!
Mirzam Orange Blossom and Almond White Chocolate
This bar is part of Mirzam's Winter In Morocco collection. I love the gentle, satisfying bite of roasted almonds with the soft floral flavours of the orange blossom in the creamy white chocolate.
Mesjokke Natural Blonde White Chocolate
This bar really lets the sugar do all the talking. It tastes like a caramel latte to me; surprisingly I get some subtle, creamy coffee notes! And lots of delicious caramel flavours from the Indonesian Arenga palm sugar. Yum!
After my experience with these wonderful whites, I have learned to be more open minded about the "light side" of chocolate!