I attended the Salon du Chocolat, Paris at the end of October (the origin of this now international chocolate show) and had a truly wonderful time meeting old friends and new, tasting some fascinating chocolate and even doing my first Spanish interview for a Venezuelan journalist (I hope it made sense)!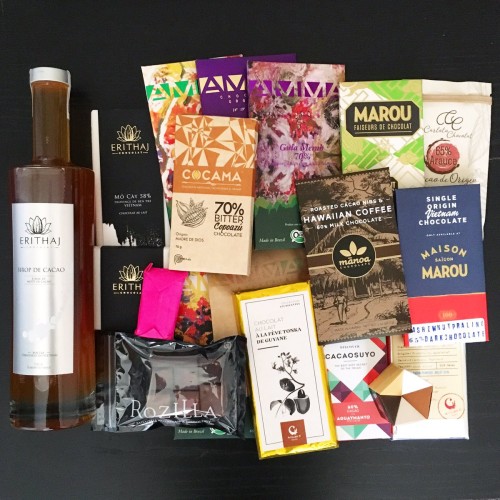 Thank you to the people who made the day so special. In particular Sophie Vanderbecken from La Caméléon Chocolates, Mexico, for introducing us to some chocolates and people who were very interesting and who we would not have discovered otherwise; the show was simply too big to cover in one day! And Mireille and Elle, with whom I spent most of the day. It was also a pleasure to meet Vidgis for the first time, originally "meeting" through Instagram (like many of my friends these days!) as well as many more!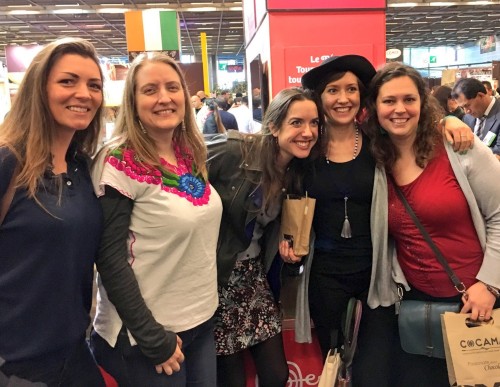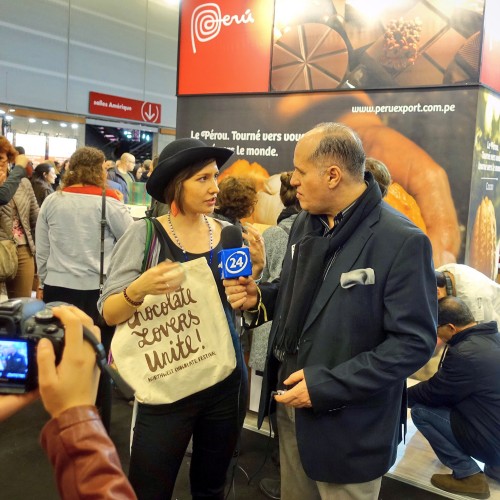 Our discoveries from the day include:
Atelier C Paris, Paris
We tasted a range of chocolates made with rare cacao. I was completely blown away by the texture of all of these chocolates… they started melting as soon as they hit the tongue with a gorgeously creamy texture. We found the flavours of these bars fascinating, with quite a spectacular difference between each one. I picked up the Brickaville bar since it tasted like no other Madagascar that I'd had before with notes of biscuits, butter and caramel. I also picked up the Milk Chocolate Tonka Bean bar. It's uncommon to find this flavour and I think it's magical! It's a cross between cinnamon and vanilla and very aromatic. It was only after we had tasted all of the bars that we swapped business cards and I realised that we were talking with Cécile from Chocolate Hackers! Cécile is a friend of an old colleague of mine. Wonderful to meet you!
Cacao Suyo with Inca Berries, Peru
I absolutely love Inca Berries/Physalis/Chinese Gooseberries/Golden Berries, whatever you want to call them! I'm a big fan of sourness and I also enjoy the astringency of these berries. They made the perfect pairing with the Cacao Suyo Piura Blanco with some texture and delicious, fruity tartness.
Cocama Cupuazo, Peru
A soft and fudgy texture with a strong toffee flavour and no bitterness. It reminded me of a sticky toffee pudding! Cupuazo (Theobroma glandiforum) is a cousin of cacao and has more fat, which gave it a softer texture compared with chocolate.
Amma, Brazil
This was the first time that I had properly tried Amma and we were fortunate enough to be given a sample of every bar by Diego (the owner). I loved them all! They are all made with the same cacao except for their Cupuaçu (Portuguese spelling) which was so vibrant in flavour and each bar tasted different. I decided to go for the 85% with cane sugar, the 70% with coconut sugar (interesting to compare the two), the 60% with pink peppercorn which had a wonderful flavour with just the right amount of spice from the pepper, the limited edition Amma with Cambuci fruit… I just love sour, tropical fruit! And their Cupuaçu bar to compare with Cocama's.
Marou, Vietnam
Thanks to Jonathan from Middletown Hill, I had already tasted the Coconut Milk Bên Tre bar by Marou which I completely fell in love with… it is just a 3 ingredient bar: cocoa beans, sugar and coconut milk powder. Amazing! Two years ago when I visited Salon du Chocolat, Paris for the first time I picked up one of 200 Limited Edition Marou Cashew Praline bars. It was delicious and I am so happy to see that they are making these bars at their new patisserie in Saigon, Maison Marou! So I picked up another one.
Erithaj, Vietnam
I first met Arnaud, founder of Erithaj, two years ago at Salon, Paris and I was so impressed with the sample of paper that he had made using cacao pods; I have since then experimented myself. This year he gave us a tasting of a variety of different cacao products including truffles, caramelised cocoa beans, a range of bars and a cacao syrup made from the pulp of fresh cacao! This was absolutely delicious and took me back to the tropical cacao lands… ahh! I went for a large bottle of the cacao syrup, a Mỏ Cày milk chocolate which was rich and fudgy and the Bên Tre 70% which tasted like just Christmas to me; spicy and citrussy.
Es Koyama, Japan
I remember judging the Academy of Chocolate Awards earlier this year and tasting a "coffee and honey" truffle. The whole table at the judging was completely blown away by the perfect balance of the two flavours and also the beauty of the truffle with a gentle kiss of red cocoa butter on top. This truffle won Gold in the awards! It turns out that the honey in this truffle is from the coffee flower… wow! So I picked up a couple of these plus some other truffles with a plethora of delicately balanced and intriguing flavours.
Manoa, Hawaii
We tasted our way through all of these bars and our favourite was definitely the Breakfast Bar: 60% dark milk chocolate with cocoa nibs and Hawaiian coffee. What we loved about this bar was the subtlety of the coffee with just a few pieces of crushed coffee beans and a great crunch from the generous dose of cocoa nibs.
Carlota Chocolat, Colombia
Colombia is well known for its coffee but not so much for its cacao. Monica from Carlota Chocolat is passionate about making Colombians aware of their great cacao and has been working with farmers to help improve the quality and also carries out various tastings with consumers to help educate them. She has a range of bars from different regions within Colombia. The packaging of each bar has information about the cacao including the altitude at which it's grown, harvest date, flavour notes and more (like the packaging of Colombian coffee). Since Colombians are used to sweet milk chocolate, Monica made all the bars 65% cacao (on the sweeter side) so that they were more approachable for the sweet-tooth. My favourite was the Arauca because of the fruity and floral flavours.
Oh! And I didn't leave without a freshly baked Praluline (brioche with pink praline) by Francois Pralus…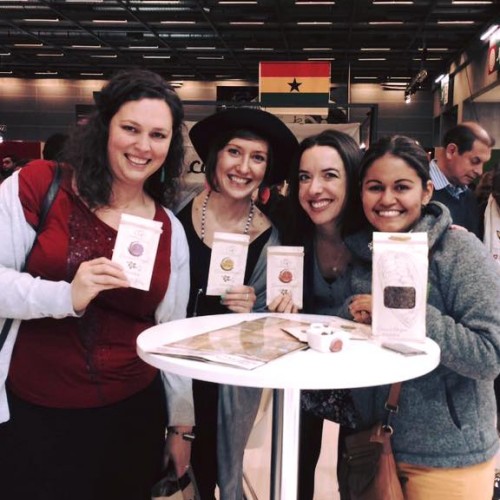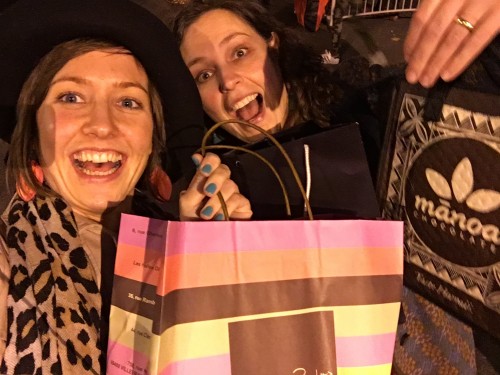 And on behalf of the Northwest Chocolate Festival, I recorded this live video tasting an exclusive bar for the first time with Sam Maruta of Marou Chocolate. Thank you Sam!