Note: I often bake this recipe without the salt on top. The dulce de leche can be swapped for another type of caramel or jam. This recipe does not work without the caramel or caramel alternative.
I wanted to combine saltiness and the gorgeous gooey-ness of dulce de leche, in the world-famous baked treat of brownies. There's a mountain of brownie recipes out there. The only brownies that I used to make were Nigella's flourless brownies. She uses ground almonds instead of flour which makes them even richer and gooey-er; there's nothing worse than a dry brownie! However, I thought that the dulce de leche might have gotten a little lost in all that gooey-ness, so I decided to use a flour recipe. I researched many different brownie recipes and came up with the recipe below (a few years ago). I have used this recipe numerous times since its creation, using some of my homemade bean to bar chocolate, and have always had great results!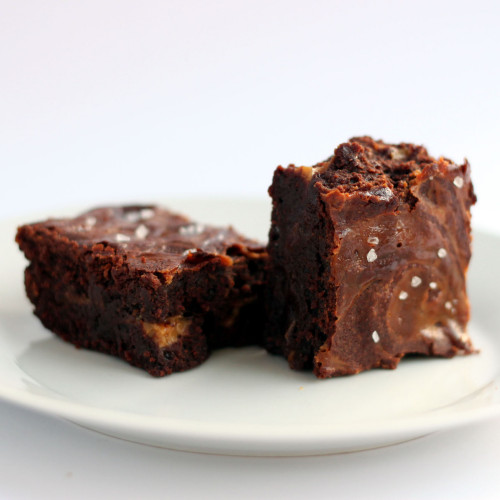 Salted Dulce de Leche Brownies
250g high-cocoa (min. 70%) dark chocolate
200g butter
3 eggs
125g flour (or 150g ground almonds for gluten free)
250g soft dark brown or dark muscovado sugar
200g dulce de leche (I use around half a tin of Carnation Caramel which is available in most UK supermarkets)
A sprinkling of sea salt
Melt the chocolate and butter together and set aside to cool. Whisk the eggs with the sugar and mix with the cooled chocolate and butter. Sieve and stir in the flour or ground almonds. Pour half of the brownie mix into a lined and greased baking tray. Gently heat up or rigorously stir the dulce de leche to make it runny and drizzle half of it over the mix using a spoon to spread it evenly. Add the rest of the brownie mix and drizzle the rest of the dulce de leche on top, using a spoon to create swirly patterns!
Bake for 25 minutes at 180°C, or longer if needed (shake the tin and if the middle is still a little wobbly, you're good to take them out of the oven). Allow them to cool before sprinkling with sea salt and slicing.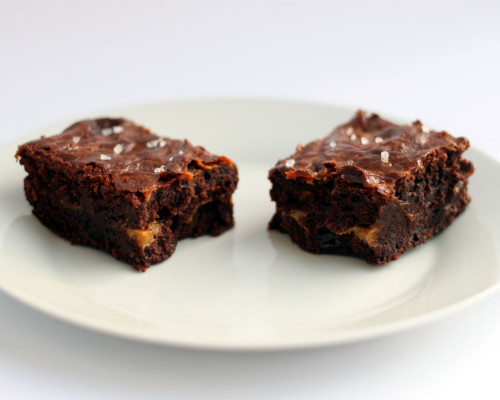 These were almost as squidgy as Nigella's flourless brownies! They were dense and fudgy with a slightly crisp (and chewy!) top layer, due to the extra-caramelised dulce de leche on top. The sea salt gave spikes of saltiness in-between the rich and deep chocolate flavours, and the smooth, sweet and creamy dulce de leche, which managed to hold its place well between all of that squidgy-ness!
These are so rich that just one bite may be enough to satisfy you, and, therefore, they may last a while (meaning more than a day… depending on who's around!). If I may say so myself, I rather enjoyed these and they are now my go-to brownie recipe.