As I mentioned in my post on my Cocoa Adventure to Vietnam, I visited Thailand in 2009 "BC" (Before Chocolate). It was one of my favourite trips. I have kept a little bit of Thailand in my life ever since by going for regular Thai massages and frequently cooking Thai cuisine at home. Since I fell in love with craft chocolate and discovered that Thailand grows its own cocoa, I had always planned to return to discover its cacao and craft chocolate.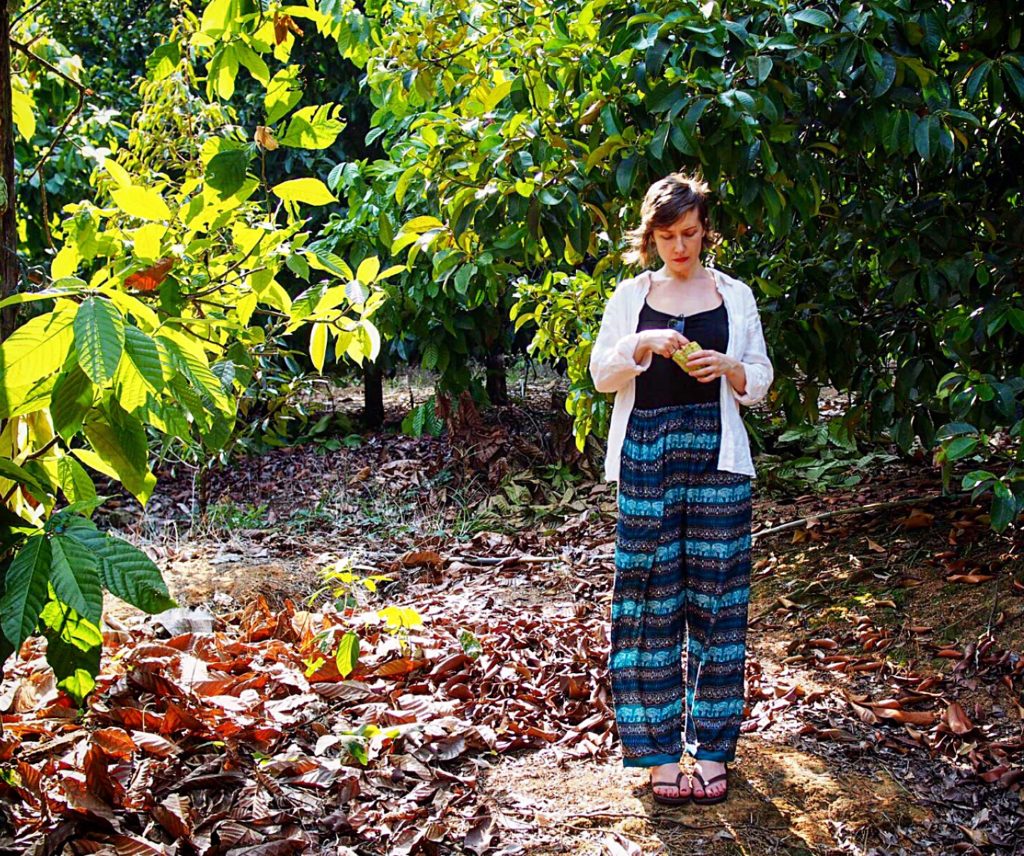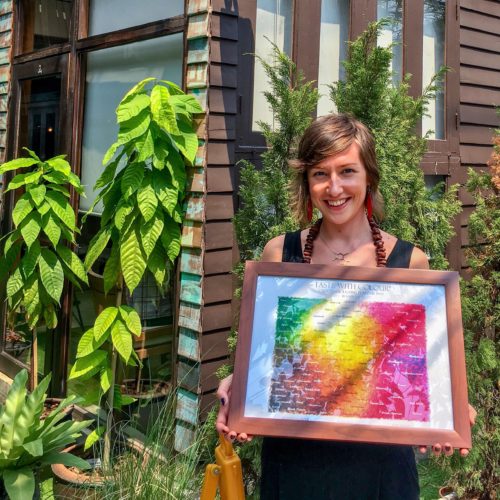 Planning the trip
About 2 years ago, I connected with Narut Ampakorn of Shabar Chocolate through the power of Instagram (like many of my chocolate friends!). It had been almost 10 years since I last visited Thailand. It had also been a while since I had visited a cocoa farm. My last Cocoa Adventure was to the Anamalai Farm, India in October 2017.
I met Paniti and Nuttaya from Kad Kokoa at Salon du Chocolat, Paris in November 2018. Their chocolates were delicious! I shared my excitement to visit Thailand and discover its cacao and chocolate. We planned for me to do a Taste With Colour® workshop at their factory in Bangkok and… a trip was planned!
About a year ago, Narut sent me a few kilos of Thai cacao from Chanthaburi: the main cooperative from which he sources his beans. I made a 70% dark chocolate and shared this at my Taste With Colour® tasting and painting workshop with the Academy of Chocolate in April 2018. Most of the attendees of the workshop discovered green flavours in the chocolate.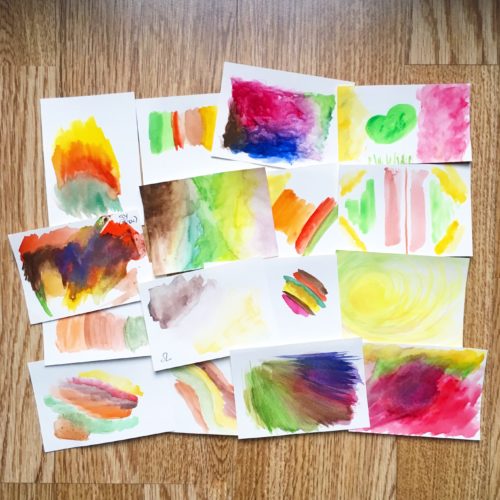 Thai Disco Bars: 100% Chanthaburi with Sparkly Kaffir Lime Leaf Infused Demerara Sugar
Before my trip, I wanted to make a different type of bar with the remaining Thai cacao to share with my Thai friends. I also wanted take some chocolate to share with the cocoa farmers in Chanthaburi.
I recently came up with the concept of a "Disco Bar": silky 100% with sparkly and crunchy Demerara sugar on top. On Instagram, I shared a post asking my followers to vote for the best name for this concept. Names included "Shiny + Sparkly", "Deconstructed 80%" and "Disco Bar". I also asked my followers to suggest new names, but "Disco Bar" proved to be most popular. Originally, I made the Disco Bar with cacao from Anamalai, India to take to The Northwest Chocolate Festival 2018.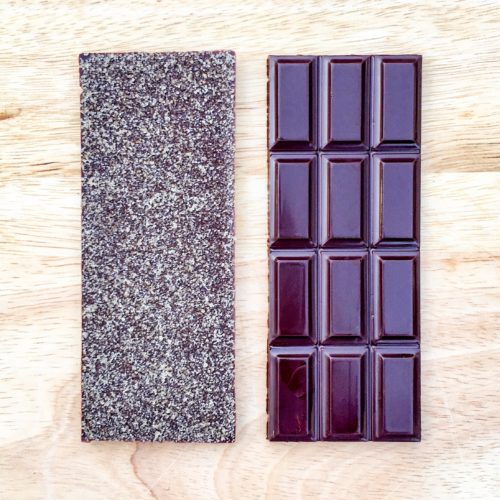 The concept of this bar was inspired by tasting Chocolate Tree's Mexican bar. I could feel the silkiness of well-refined and conched chocolate mixed with the crunchy nibs and sugar. Typically a "rough ground" Mexican-style chocolate is made by roughly grinding the nibs and sugar together. This creates a chalky texture. Ali and Freddie of Chocolate Tree confirmed my suspicions that for their bar the chocolate was made separately then combined with the nibs and sugar.
I found the juxtaposition of textures really enjoyable. Since I work for a sugar company, I managed to find some seriously sparkly Demerara sugar. I sprinkled it on top instead of blending into the refined and conched 100% to create the concept of the "Disco Bar". The texture had the contrast of smooth and crunchy and the sugar also provided a sparkly appearance.
There are so many flavours from Thailand which I adore: mangosteen, Thai basil, jasmine rice, mango, kaffir lime, lychee, lemongrass, coconut and generally all of the curries and coconut-based dishes. On my now-retired food blog Chicken in a Cherry Sauce I developed a Thai-inspired macaron recipe: Kaffir Lime and Coconut Macarons. Many people said that they tasted like curry! However, I think this was only because they associated kaffir lime leaves with curry and had never tasted kaffir lime leaves on their own before, let alone in something sweet.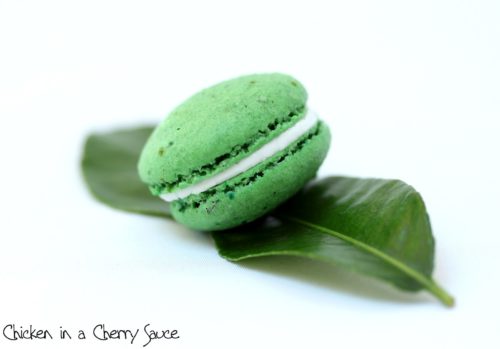 I always have kaffir lime leaves in my freezer for my Thai cooking. Since the 70% Chanthaburi I made already had some green flavour notes (discovered during the Taste With Colour® workshop with the Academy of Chocolate), I decided to make some Kaffir Lime Leaf infused Disco Bars to complement the "green-flavoured" cacao and to take with me on my trip. I finely sliced some kaffir lime leaves, blended them with the sugar and dried in the oven to remove the moisture before topping the 100% bars.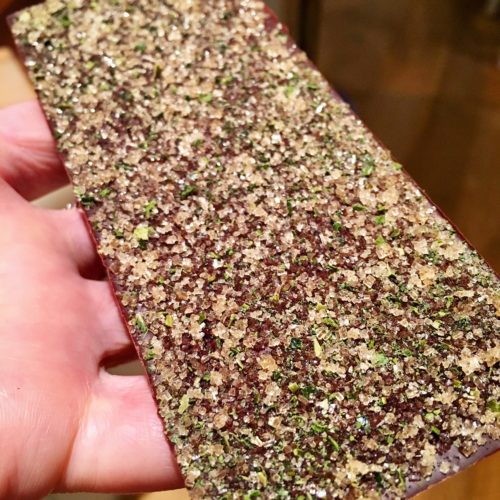 Sampling the bean to bar chocolate delights of Bangkok
I began my trip touring the chocolate shops of Bangkok with Narut. We started off at Roots Coffee (I love how most chocolate enthusiasts love great coffee, too). We sampled two different Thai coffees, some fresh doughnuts and Narut shared some of his 70% Chanthaburi bars with me. His chocolate brand is called Shabar Chocolate. In this bar I tasted balsamic, green apple, cider, raisin and subtle mushroom and undergrowth notes. It reminded me of the El Salvador Finca Las Brumas Natural Process coffee from Hasbean with the funky, cidery and fermented flavours. Delicious! (I will discuss the colour expressions of this bar from my Taste With Colour® workshop later in this article).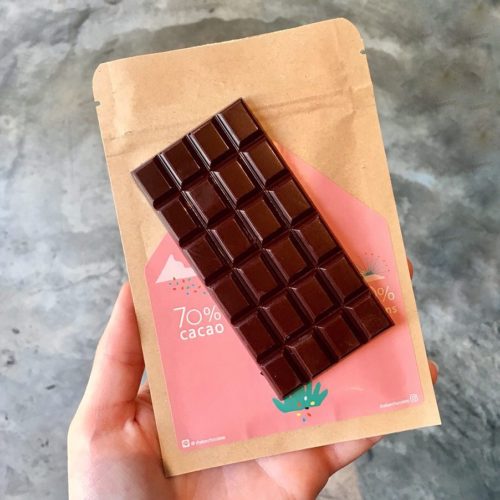 We then went for a local Thai breakfast of stewed pork leg with rice. After breakfast we headed to Paradai Chocolate near the famous backpacker street Khaosan Road. Paradai currently work with one origin from Nakhon Si Thammarat. We sampled some Chinese New Year inspired bonbons including "Lucky Orange" and "Wealthy Chestnut". We also tried a Salted Caramel and Citrus & Honey Orange Cream Cheese. My favourite was actually the Salted Caramel! We also tasted Paradai's dark and milk bean to bar chocolates. The dark bar tasted like buttered toast and reminded me of Hogarth Chocolate's Buttered Toast and Sea Salt Bar.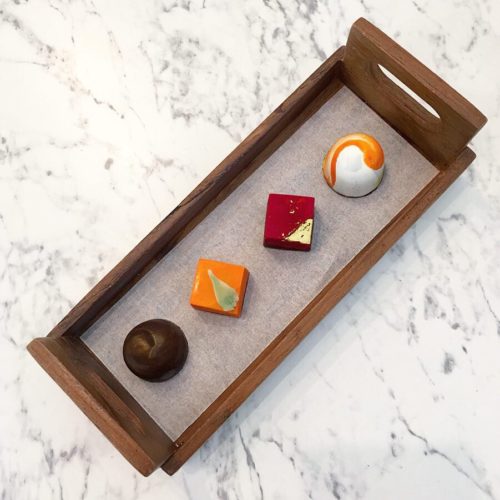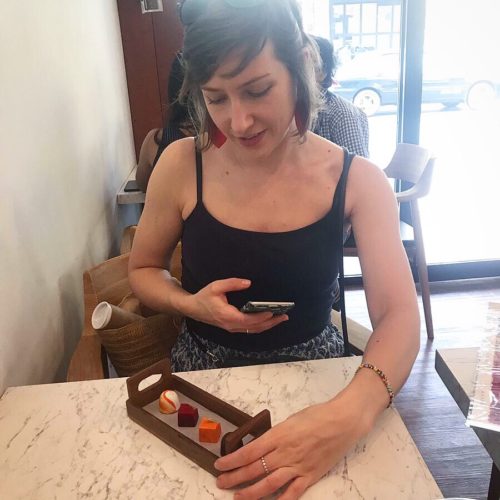 After Paradai, we visited a local food market where I had the opportunity to try some fresh local fruits. Mangosteen and rambutan are some of my favourite fruits. I bought a kilo of each to snack on!
We then headed to Sarath N. Chocolatier. We were quite full by this point but we also managed to sample 3 different bonbons: Whisky Nib, Citrus & Mango and Yuzu.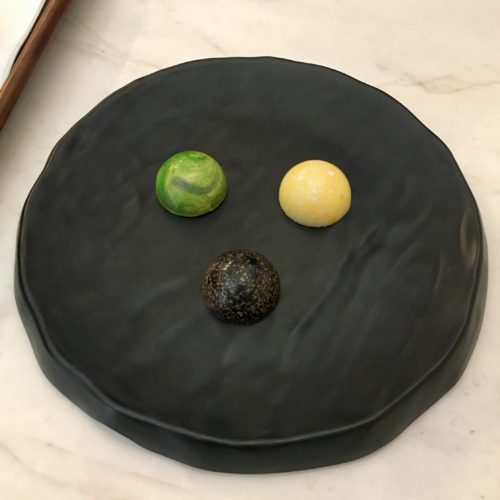 Sarath offers a rather famous cocoa-pod-shaped hot chocolate experience. It did not disappoint. Firstly, I adore anything that involves a cocoa pod. Secondly, the pod was made with Sarath's own bean to bar chocolate using Thai cocoa beans! As I poured the chocolate milk on the chocolate cocoa pod, a surprise was revealed: homemade marshmallows! They were soft and pillowy rather than chewy like some mass-produced marshmallows can be. Finally, it was topped off with some roasted cocoa nibs. Delicious!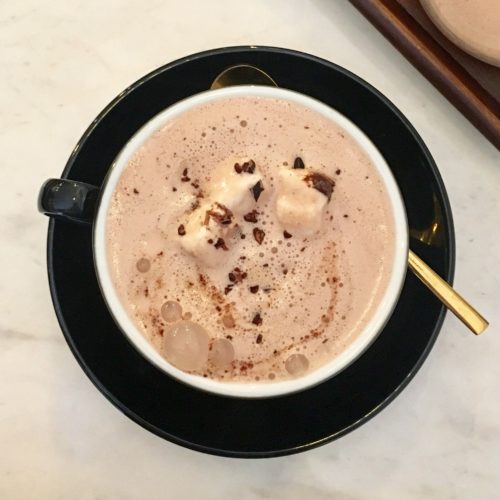 My last stop of the day was a brief visit to Kad Kokoa to drop off the Taste With Colour® maps for the workshop. I managed to squeeze in a small sipping chocolate made using cacao from Prachuap. Yum!
Meeting Thai cacao in the flesh in Chanthaburi
The following morning we set off early to drive from Bangkok to Chanthaburi. The group included Narut, Natalie (Nat) from Xoconat, Yong from Spreads BKK and myself. Nat shared her Phed Nit Noi Xoco Crunch bar in the car. As I previously mentioned, I adore Thai flavours. This bar included a buttercrunch (or brittle), coconut, peanut, dried chillies, kaffir lime leaves and 65% Chanthaburi chocolate that Nat made herself. This was a "wow" bar for me and it did not last long next to me! A flavour and texture explosion that totally encapsulated Thai flavours.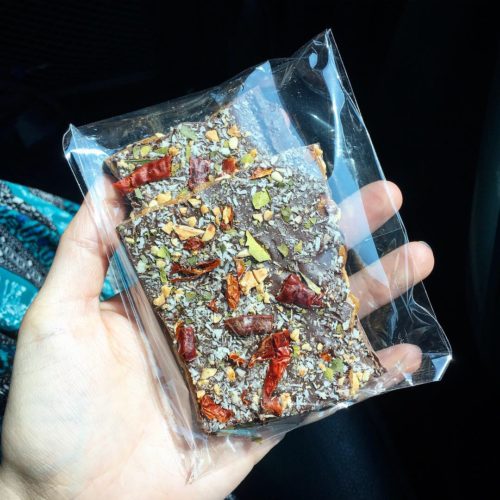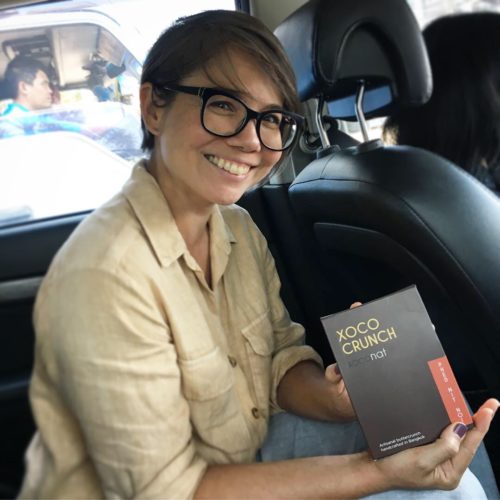 We first arrived at one of the farms in Chanthaburi. Most of the trees were 7 years old. They also grew mangosteen (although, sadly, they were not ripe during our time of visit!). There was durian with the odd sugar cane plant, too. We enjoyed a wander around the farm snacking on delicious fresh cacao pulp and comparing the flavours from different pods.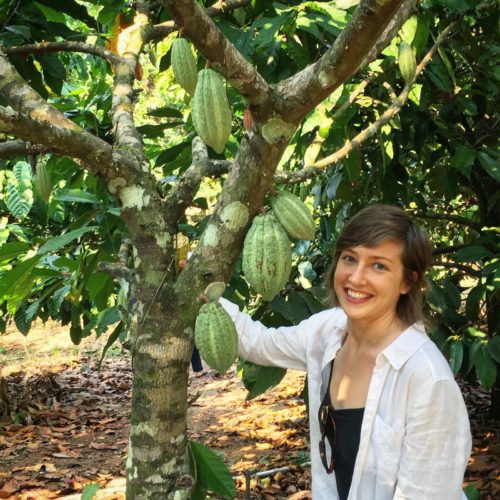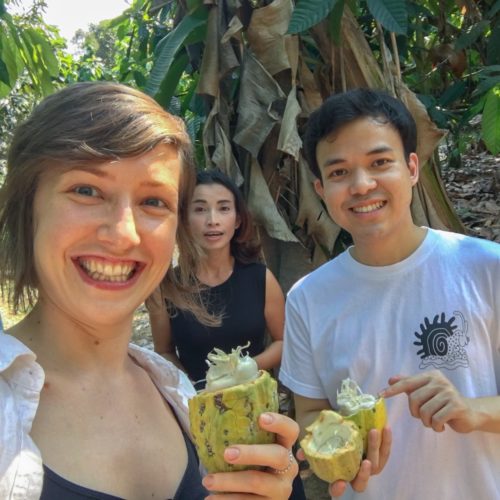 They also grew some kaffir lime trees. They harvested some fresh leaves for me from the trees on the farm! And I gave them one of my kaffir lime Disco Bars made using beans from their farm.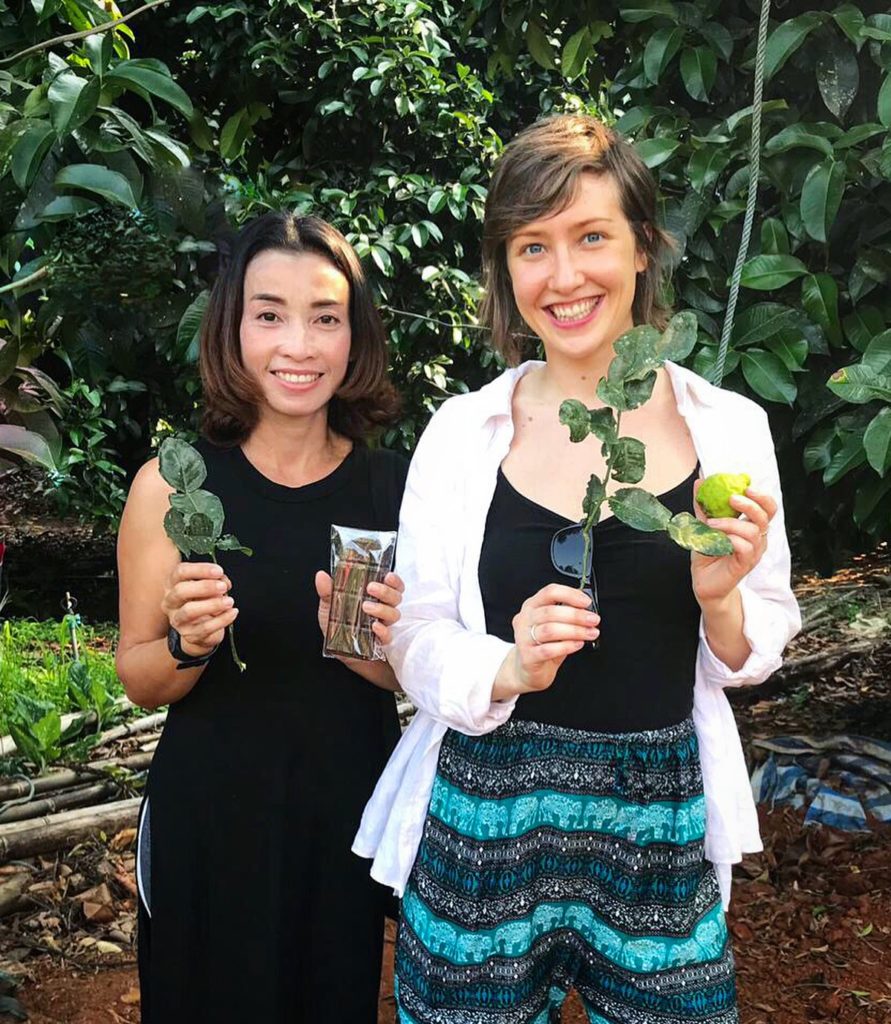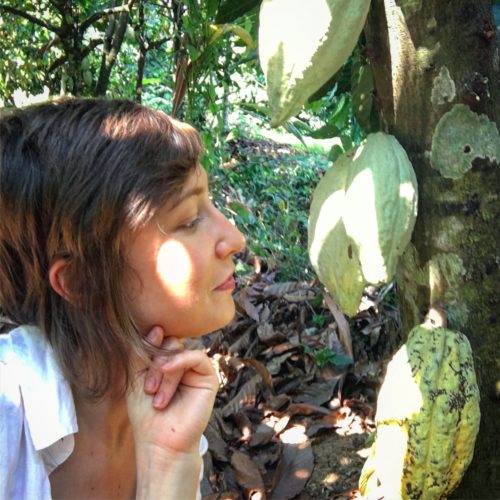 Cacao Fermentation and Drying Cooperative in Chanthaburi
We then headed to the fermentation and drying unit after visiting the farm. They had two fermentation boxes, a covered drying room (like a greenhouse), multiple sorting tables and an indoor storage area for storing the final, sorted and bagged beans.
They were sorting a few different lots of dried cacao when we arrived. They also had a small batch of cocoa undergoing fermentation.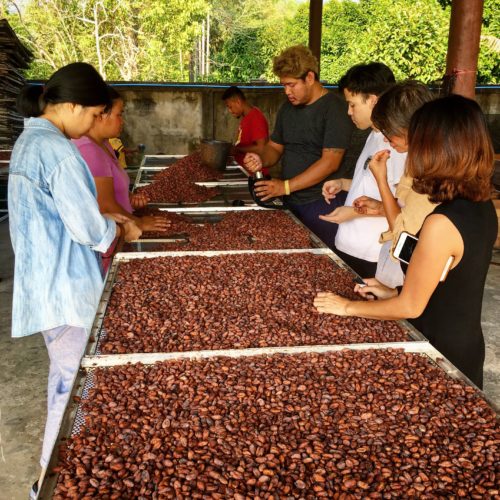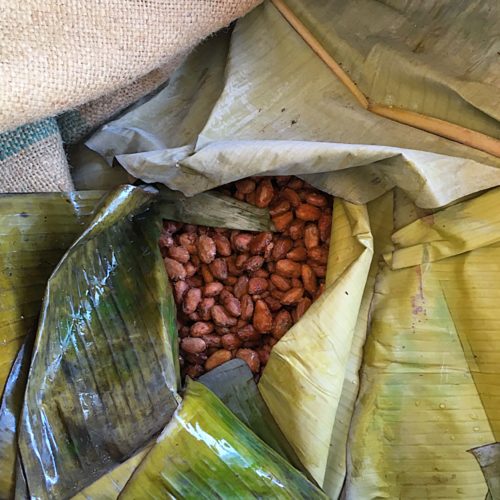 We spent a bit of time tasting different beans and discussing orders before we retreated to the hotel for the night. The following morning we went to an incredible coffee shop in Chanthaburi called ดาวอังคาร (this translates to "Mars" in English). We ordered pretty much every coffee on the menu and shared them. I have recently been put off espresso-based coffees because I've had a few bad ones. This place really turned that around for me. We shared a couple of different espresso-based drinks and they were super smooth and chocolatey! The owner also opened early for us because we had limited time before we had to return to Bangkok. Thank you!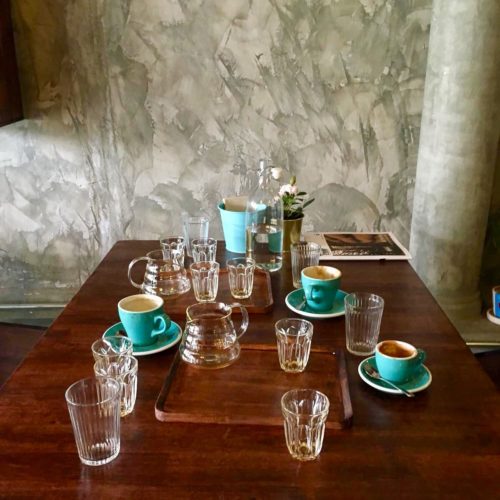 We briefly visited a nearby sugar mill. It wasn't running because it was a Sunday but we could still get a feel for the artisanal process and see all of the bagass (sugarcane fibre leftover after squeezing the juice). We then headed back to Bangkok for the first Taste With Colour® workshop.
First Taste With Colour® Workshop in Bangkok with Narut Ampakorn
Narut helped organise a small Taste With Colour® workshop that we held at The Orange's Tea the evening that we returned from Chanthaburi.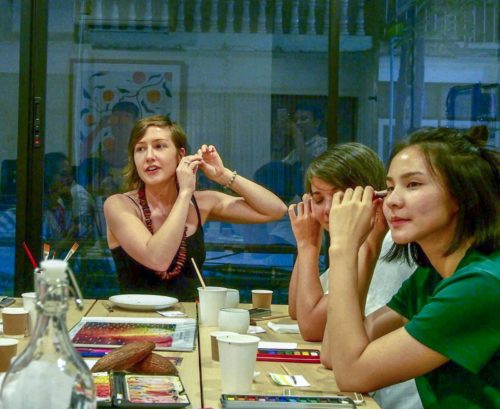 The workshop was held in a room above the tea shop with a small group of six as well as Narut, myself and Yong. We tasted and painted Chocolate Tree's Chililique 70% that I brought over from the UK, Shabar's 70% (Narut's brand, made with beans from Chanthaburi and mentioned earlier in this article) and my Thai Kaffir Lime Leaf Disco bar (also made with beans from Chanthaburi).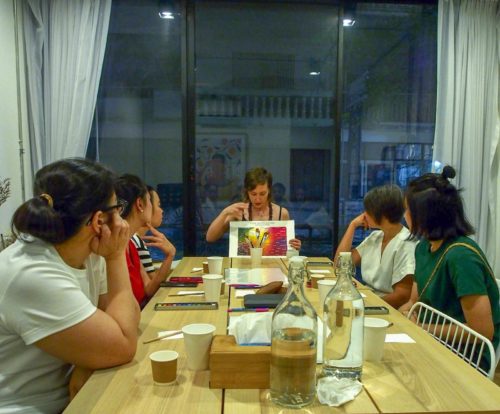 In the Chililique bar we discovered tropical fruit flavours and some rich chocolate notes too. The paintings all shared some oranges and yellows for the tropical fruits and browns for the rich and smooth chocolate notes. Some people also found purple berry notes and hints of green.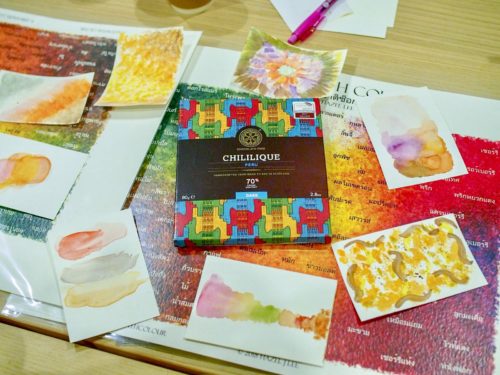 In the 70% Chanthaburi Shabar Chocolate bar we discovered a variety of different flavours. My painting was quite different from everyone else's (the green and brown one in the image below)! I tasted balsamic, green apple, cider, raisin, undergrowth and mushroom. While others tasted green apple too, they also tasted pink and purple berries, candy and tropical fruits! This is a beautiful example of how we all taste differently. I often find in my Taste With Colour® tasting and painting workshops that a whole variety of flavour notes are expressed across the different paintings, but often the colours and flavours will overlap between individual paintings.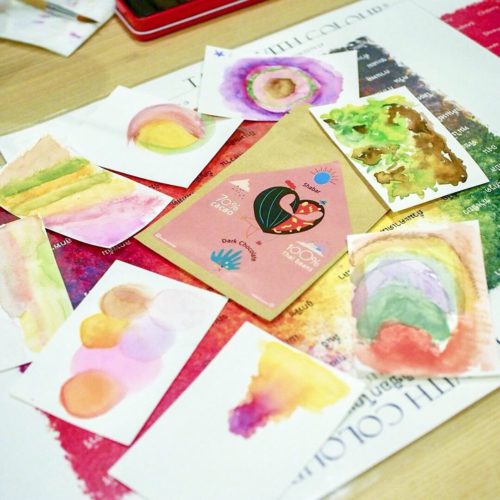 In my Thai Kaffir Lime Leaf Disco Bar everyone discovered similar flavours – very dark brown from the intensity of the cacao and the earthy flavours from the 100% with a spiky sweetness and a quick "puff" of green kaffir lime leaf flavour. We tasted the bar in two different ways: sugar side up and sugar side down. The experiences were slightly different in the timing of flavour delivery, but ultimately the same flavours were experienced. It was quite fun to try them both ways and compare the experiences!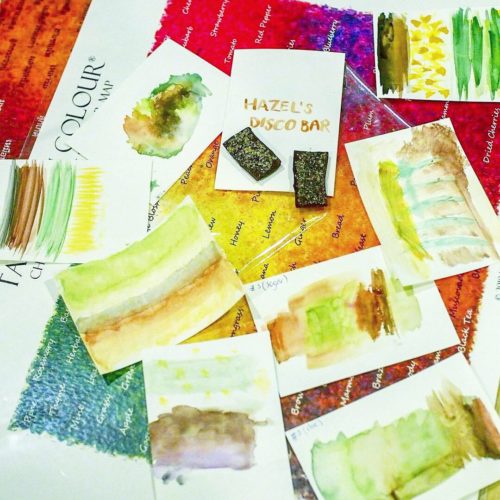 Colours used to Describe Flavours on Speciality Coffee Packaging
The following day I flew down to Krabi and spent a couple of days in Ao Nang: an absolutely stunning area of Thailand. It was a true tropical paradise. You can't go to Thailand and not visit a beach!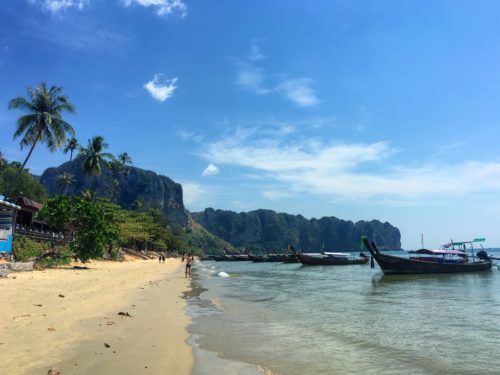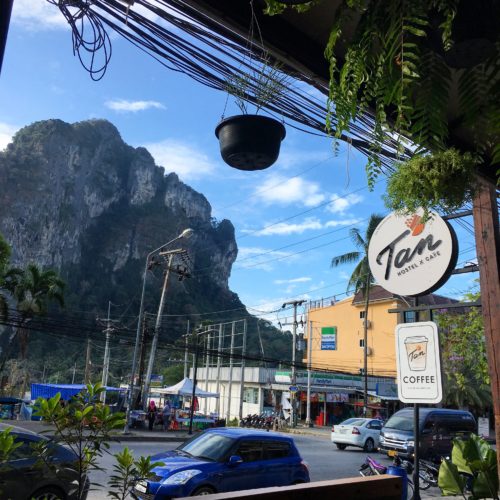 In Ao Nang, I stayed in a beautiful hostel called Tan which was also a cafe. I noticed some interesting looking speciality coffee packages on the shelf behind the till. I politely asked the owner Tor if he had opened them yet and, if not, did he want to open them and try with me in exchange for a mini chocolate tasting.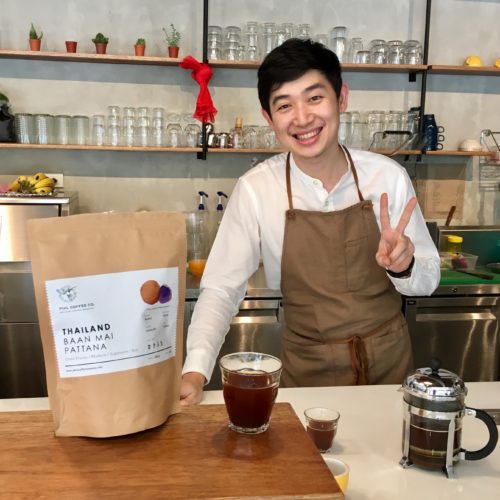 I discovered that the packaging of Phil Coffee Co. used colours to describe the flavours in the coffee. This excited me very much!! On their packaging they described the coffee as having brown and purple flavours. We could only make the coffee in a cafetiere or an espresso due to limited brewing equipment available. We didn't quite get those colours/flavours from brewing in a cafetiere or espresso. It would have been nice to try in a pour-over style filter coffee. I know that I need more practice with identifying flavours in coffee because they pass much more quickly compared with chocolate. I was very happy to discover this concept of flavour description on the labelling nonetheless!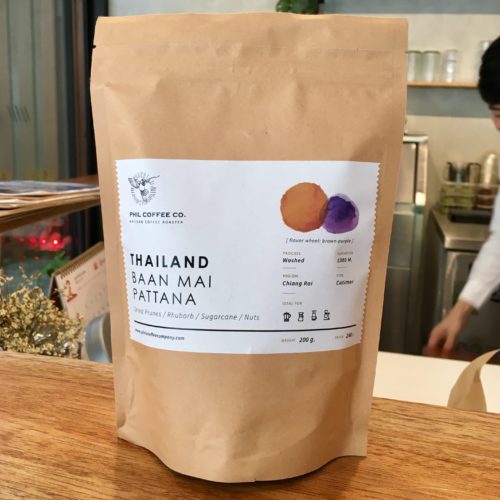 Second Taste With Colour® Event in Bangkok with Kad Kokoa
I returned to Bangkok on Valentine's Day to carry out a Taste With Colour® workshop at Kad Kokoa which was organised with Bo from Nosh Nosh Project. We used English maps and newly translated Thai maps too!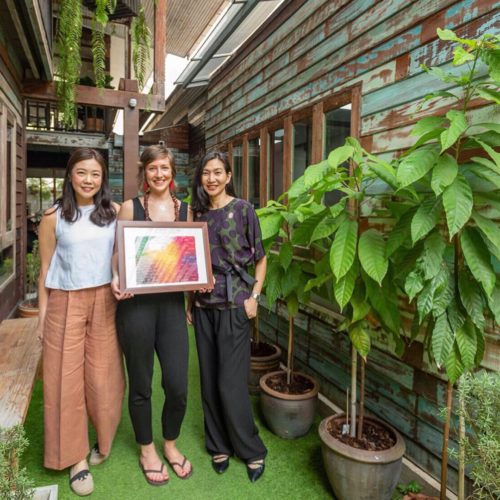 We tasted 3 of Kad Kokoa's single origin Thai bars with cacao from three different areas of Thailand: Chanthaburi, Chiang Mai and Prachuap.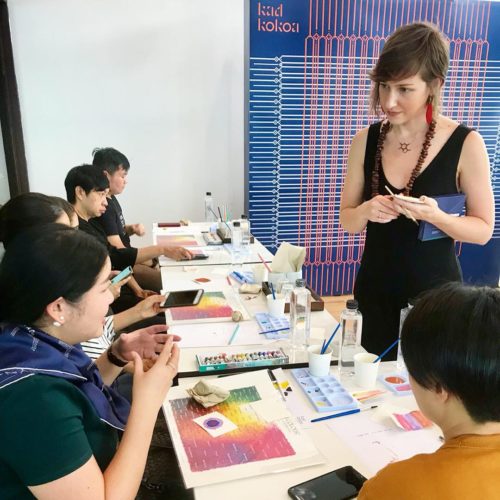 In the Chiang Mai bar we tasted a bright acidity with yellow (butter, lemon, honey), orange (tropical fruit), brown (cocoa, chocolate, earthy) and hints of purple (berries) and green (leafy) flavours.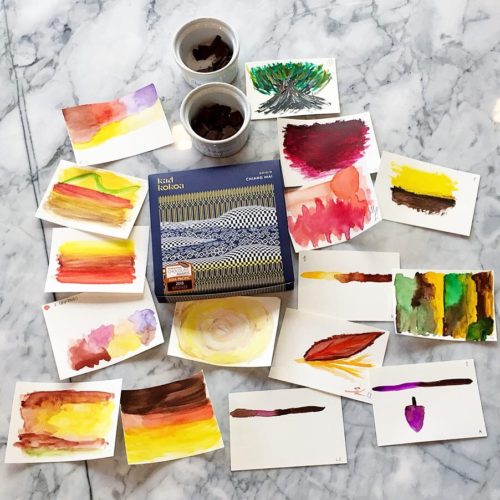 In the Prachuap bar I tasted vivid lemon, raspberry and cinnamon notes (can you spot my painting?). Others also tasted some citrus and red fruit notes as well as some green leafy notes and brown spice and earthy notes.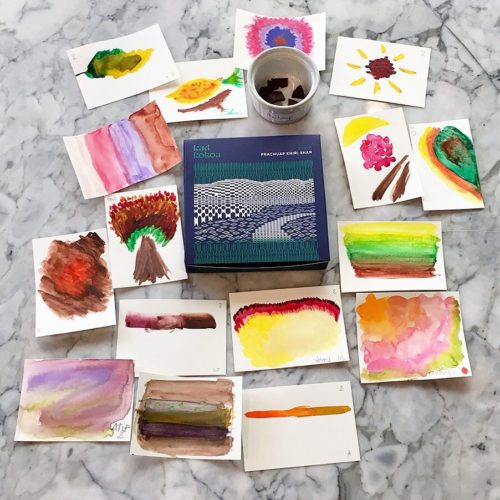 The colours that we discovered in the Chanthaburi bar were more khaki (undergrowth) and brown (earthy) with some yellows (tropical fruit – spot the pineapple!) and greens (eucalyptus and herbal).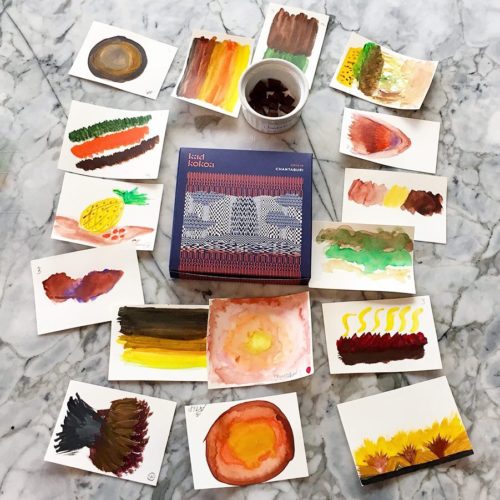 After the Taste With Colour® workshop we had a chocolate afternoon tea made by Kad's in house pastry chef Remy Janicot. It was all washed down with some refreshing fresh cacao juice!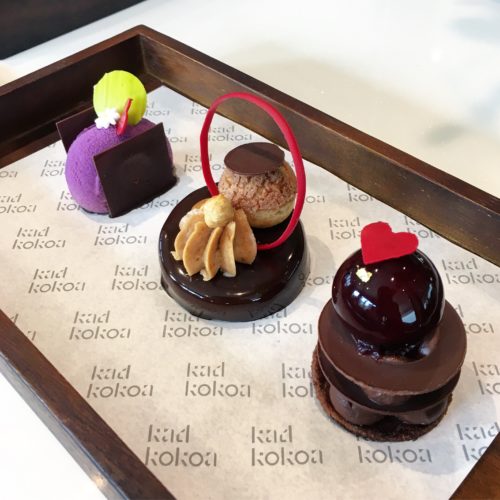 I spent my Valentine's Day evening with Yong and Natalie at The Local Canteen. We shared a few different Thai dishes and I finished the meal with my beloved Mango Sticky Rice. All of the food was absolutely delicious!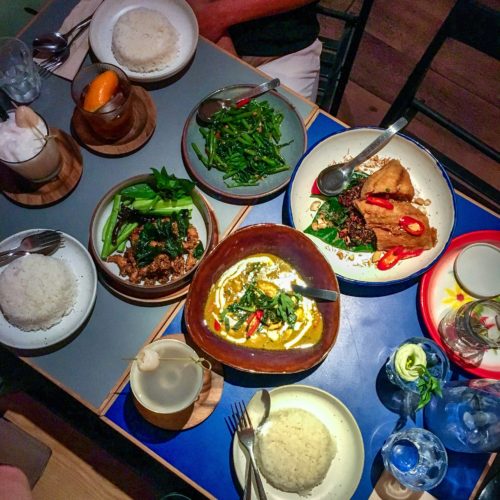 A flavour of Kuala Lumpur's craft chocolate scene
The next day I flew to Kuala Lumpur to spend some time with a friend who was living there for a few months. I opened the Xoconat Valentine's Badass Bar named "The Love Bomb" in the taxi just after I landed. Half lavender caramel and half lemon ganache filled 70%  Like Nat's Phed Nit Noi bar, it did not last long! Nat's creations are another level. She is not shy about her flavours. Her bars are also super chunky and generous with the size of the bars and the amount of inclusions.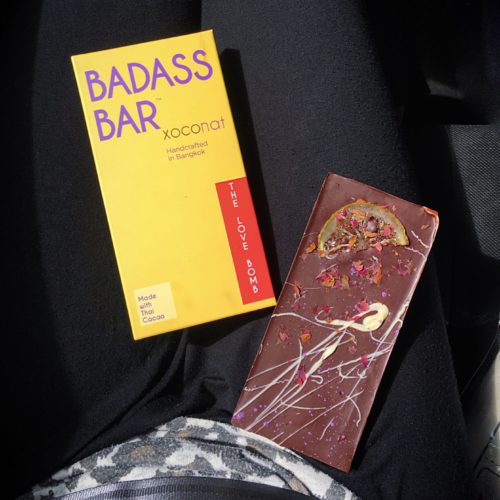 I visited a newly opened bean to bar chocolate shop called Seniman Kakao. We went straight after lunch so I was not ready to sample loads of products! However, it was great to meet the owner and I bought a couple of bars to take back home with me. 
I met up with Ning from Chocolate Concierge: a Malaysian Tree to Bar Chocolate Company which also sources and supplies Malaysian cacao to other makers.
We went for dinner at Chocha Foodstore. The food was incredible and we completed the meal with a phenomenal dessert that was made using Ning's chocolate. It consisted of a 72% single origin dark chocolate mousse from Pahang with banana compote, cocoa husk cookies and was topped with chocolate shavings. 
Ning and I planned a cocoa trip the following day but unfortunately I fell ill so I was not able to go. Ning came to visit me at my hotel so that we could still do a Choc-Map-Bean-Swap! He also brought me some fresh and juicy mangosteen from his cocoa farm which I smuggled back to the UK. They were the most delicious mangosteen I have ever tasted! Thank you Ning for visiting me while I rested in my hotel room 🙂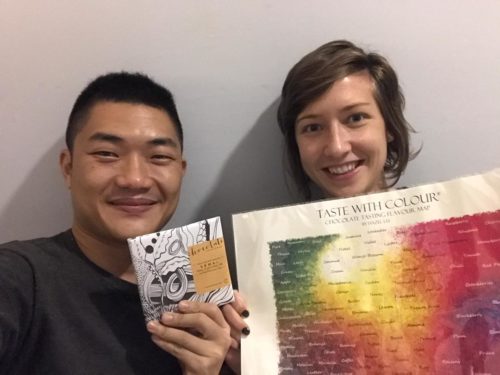 And the following day I flew back to London… phew!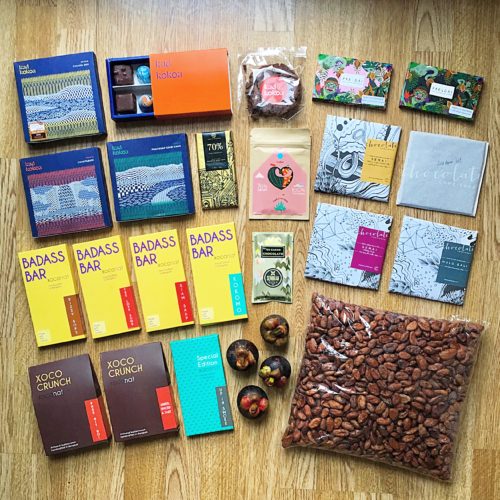 Life is a continuous learning experience…
To call this trip "busy" is quite an understatement. I have a full time job so I have limited annual leave. There are so many places that I would like to go to in the world. I try to spread my annual leave thinly in order to go to as many places as possible. Needless to say, when I arrived home, I felt exhausted! I have learned to be kinder to myself next time and not pack so much into one trip.
Despite the exhaustion, I was so happy that I went back to my beloved Thailand after 10 years. This country still holds a very special place in my heart.
I am also very excited to see the Thai chocolate and cacao scene develop and to play a small part in it.
Thanks so much to everyone involved in this trip! Particularly, Narut Ampakorn who exchanged messages with me almost daily in the weeks leading up to the trip and was so helpful. #CacaoLove